Pat's Blog
"Sht Dwn Plz"
---
Friday, July 28, 2006 at 4:22 PM It's been a long time since something in the IT world has made me smile. Between DRM, lawsuits and general irratation coming from working with computers for a living I've got used to IT being frustrating.

But this definitely got a grin from me:

Dell Turned Off by Text

Very funny... essentially, it appears that a guy managed to get a Dell GX520 to switch off simply by having a phone sitting close to it - and having the phone recieve a text. It's not just one person who's had this either - one person's even taken a video of the experience.

Now, I admit this could be a wind up. But it didn't stop us trying this at work on the GX520 we've been evaluating.

The result: the GX520 didn't turn off. It didn't get affected at all.

This could've been due to a number of factors:
The phone used to recieve the text (mine) was low on battery and perhaps was using lower power to send and recieve (does this even happen? I've no idea)

The phone used was operating in the wrong frequency range (Orange's) to create the issue

It's a rare issue

Our GX520 is a one-off lead-cased beast

This whole thing is a load of balls.
Either way, we're going to try it again on Monday with 10 phones. I'll let you know the result...
Ah, balls...
---
Sunday, July 23, 2006 at 3:16 PM I've given myself yet more to do in the world of pointless radio features.

It's called Squage Balls. It'll be happening weekly. And it's coming soon.

Check out the preview here.
Giving Blood and Superman Returns
---
Wednesday, July 19, 2006 at 9:11 PM It always amazes me how much I worry whilst sitting on the donor room seats awaiting my name to be called to give blood.

I get worried about how much it's going to hurt and how much it'll ache afterwards.

The bit that hurts? Well, it lasts about 5 seconds, just as the needle's put in - usually during which I babble to the nurse about the fact that I spend too much time worrying about a bit that only hurts for 5 seconds.

Aside from that, it's a welcome lie down for 15 minutes. Oh and also some free biccies. Dunno why I worry!

The after-aching? Not really a problem unless you're trying to do something requiring any exursion in your arm... which tends to feel rather weak! A great excuse to lie about a bit and relax in the evening :-)

This provided an issue in the car, however. The handbrake, specifically. Some "leaning-over-the-handbrake and attempting to lower it with my right hand action" was required... which is a lot harder than you might think!

Aside from that I had ample opportunity to sit on my ass tonight - along with having lots of fluid in the shape of a huge cup of Pepsi Max. Hooray for the cinema!

That brings me onto the second part of this entry: Superman Returns:

What a film! What a film! It's great. Go see it.

Brandon Routh is perfect for it - in many cases a spitting image of the legend that is Mr Reeve but yet plays it differently enough to make it his own.

Kevin "You know, him from American Beauty? What? He's in OTHER stuff? He's the real who? Oh, he's [CENSORED BY THE UNIVERSE]" Spacey is brilliant as Lex Luthor.

The special effects really are stunning, too, and the story's not bad either really - the 154 minutes largely flies by, which is always a good sign.

Kate Bosworth is fit great as Lois Lane too.

I just can't believe they all die in the end. And that Kevin Spacey is the real [CENSORED BY THE UNIVERSE].
Please Don't Shout At Me...
---
Tuesday, July 18, 2006 at 3:10 PM ...but I accidentally bought an Acer laptop.

From Comet.

Yes. I know. It sounds like the equivalent of going to PC World and buying a HP multifunction printer*, but before you call me a crazy, crazy fool, check out the specs:
1.66GHz dual-core Pentuim Duo

1GB RAM

80GB HDD

ATI1300 Graphics card with 512MB dedicated RAM

15" bright screen

DVD Rewriter

Wireless (83021934235g or whatever it's called)

Bluetooth

4 x USB 2

I'll be honest, I don't know what the HDD speed is. And the battery life is a bit pants at 2h30-3h.

But, well:
I'll just be using it in the lounge / in the garden (i.e. close to power if needed)
My workmate Leanne brought her one in and it performed damn well
It was on offer for £600 at Comet.co.uk
Couldn't really resist that one, particuarly as I've been umming and aahing about getting a laptop for ages - usually with the same or slightly lower spec at a higher price.

It'll run quietly as well for voiceover stuff - woohoo!

Go on then... start your moaning :-)

* Which I clearly didn't do 7 weeks ago **
** It was only 6 weeks ago
The World Cup Winnar!
---
Wednesday, July 12, 2006 at 9:11 PM Woot! I won £32 in a world cup sweep stake at work... and so I've bought myself green, white and red face paints to celebrate *: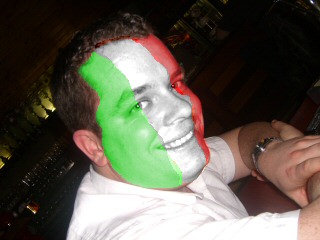 At some point, I was going to do a Squage Sport world cup summary... ah well, you'll have to wait until the Premiership starts for the weekly sports round up. And by "starts" I may mean "starts in 2009".

* Actually, no I haven't. I KNOW - THIS PHOTO WAS EDITED!!!!
raa-ii-ya ra raiyora
---
Monday, July 10, 2006 at 8:20 PM A magnificent mushroom cloud in the sky
raa-ii-ya ra raiyora
In the afternoon where a little bird munches bait on the lane

Yes! You are correct! That is, of course, the first verse from the theme tune of the awesome Paranoia Agent.

"WHAT?" I hear you ask.

Well, allow me to explain:
On Sunday, myself and some mates from Uni went to the Barbican's Anime Film Festival

The Anime Film Festival consists of a showing of 4 fine pieces of Anime film / TV shows at the Barbican

One of the showings was of episodes 1 - 4 of an animated Japanese TV show called Paranoia Agent

It was awesome: gripping, a bit confusing, funny, thrilling and had some gratuitous anime naked female forms amazing artwork in it

The theme tune caused Chanmander and myself to dance like fools in the cinema

The end credits are possibily the oddest end credits in the world. FACT.

I've preordered the DVD boxed set from play.com

So should you

Because it's awesome

(Paranoia Agent is awesome)

Hope that makes sense now :-)
A Special Workplace Birthday Present
---
Thursday, July 06, 2006 at 9:08 AM Our mate James is 30 today. Last night, a few of us from the office decided to give him a rather special birthday present.

Paul bought a load of wrapping paper and did this to James' desk: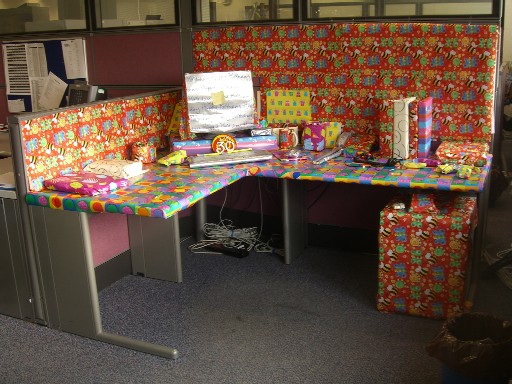 You'll notice that pretty much everything was eligible for wrapping: folders, in trays, coffee mug, pens, photos... oh, and of course, his Six Sigma Green Belt certificate: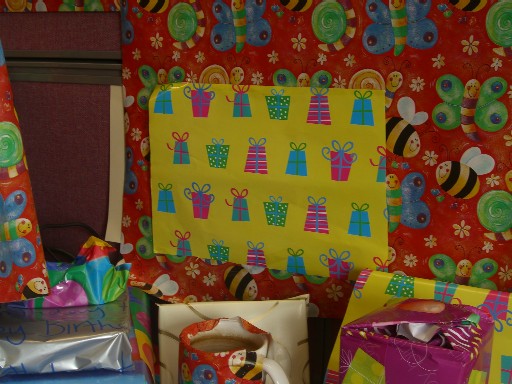 My particular favourite was the phone, which we'd ensured still had the mouth and ear pieces uncovered and could recieve calls: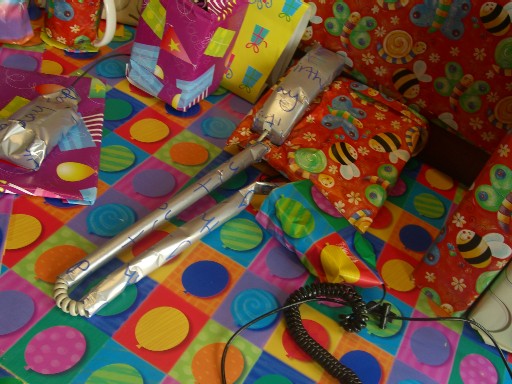 It was touch and go as to whether James'd find this funny, but we think it worked: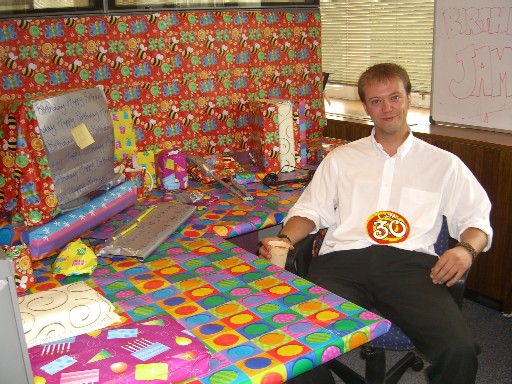 He's been laughing and standing in amazement saying "How long did that take you guys?" for about 30 minutes, so I'm guessing he's happy enough :-)

Happy birthday James!
No Comment
---
Monday, July 03, 2006 at 10:01 PM Well, no comments to be precise.

Yep, I've finally moved away from Enetation and gone with blogger comments. Why's it taken so long? Well, I've only just noticed that blogger now allow comments without having to get some third party to do it.

This was probably put in 2 years ago.

Anyway, sorry if you left any comments in the past - they've all been wiped, (possibly) never to be seen again.

This was an exciting update, wasn't it?
I don't know what amazes me more...
---
Sunday, July 02, 2006 at 7:29 PM ...that I honestly thought England could've won the world cup despite previous performance, or that people who do the following to their cars exist:




I mean, for the love of God.

I know what you're thinking - "Yeah that doesn't really surprise me, Pat, isn't that what ALL cars look like in Essex?" - well, it's not unusual but this wasn't in Essex.

This was in the centre of Cambridge.

The traditionally quite posh, pleasant city of Cambridge.

CAMBRIDGE.

Unbelievable. What made me chuckle more about this after I'd taken a photo of it with my phone and forwarded it onto a workmate was the response:
What's that comin over the hill, is it a Ferrari?
No, its a fuckin mondeo...
Anyway, aside from that I've had a really nice day today (which I needed after the emotional, beer+football powered rollercoaster of yesterday afternoon) up in sunny Cambridge with all my family to celebrate my middle brother's 25th birthday.

Lots of wandering around in the lovely parks, some rather tasty icecreams and some hilarious "almost falling in" action doing punting on the river Cam. Punting's actually really good fun, I recommend it. Just don't expect it to be easy... it's blooming hard enough pushing the boat along but it's even harder using the punt (large pole thing) to push against the water correcting your position once every 10 seconds or so :-)

Still, I managed to stay dry (apart from the buckets of sweat thanks to the 30 degree hot sunshine and lack of wind) so that's a nice bonus.

Back at home now. I think I owe myself a pizza...