Pat's Blog
Note To Self
---
Friday, June 30, 2006 at 11:37 AM If using an executive meeting room at work, ensure ALL the following checks are performed prior to drawing a big picture of Squage on a whiteboard:
Blinds are down
Board wipers are available
Pens are available
The pens on the shelf attached to the whiteboard are actually whiteboard pens and not PERMANENT F***ING MARKERS
These four steps will prevent future pant-filling following only looking at the type of pen used after the drawing has been completed.

Needless to say, as I stood in utter horror, my two workmates spent some time consoling me by royally pissing themselves for about 5 minutes.

Heaven knows how I'm not a director yet.

Update: Some pictures of the incident: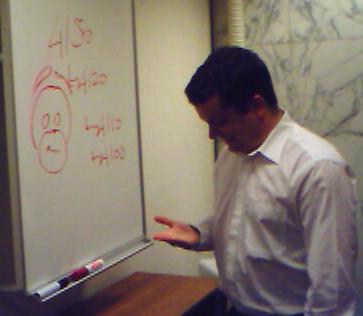 "Oh you've GOT to be joking..."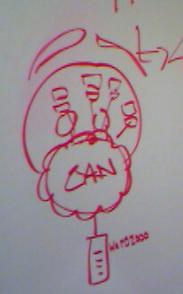 An entirely professional and not at all lame effort at covering up the offending drawing with a "network diagram"
Through to the quarter finals, then...
---
Wednesday, June 28, 2006 at 8:13 AM ...but will we get through those? Heaven knows at the moment.

We're shakier than that bridge people have to walk across in Takeshi's Castle whilst being twatted by balls shot from a cannon thing, and about as consistent as
randomize timer
do
print rnd(100)
loop
(classic QBasic gag there * )

Anyway, it's the result that matters I guess and so long as we keep getting the right ones I don't care about how shaky or consistent we are.

You are no doubt having sleepless nights, desperately waiting on another Squage Sport installment for Sunday's match... but sadly I've not done one. This is for one of the following reasons:

There was only one goal to report on - what's the point in that?

I was massively hungover on Monday and as such couldn't be assed, and by last night I'd forgotten all about it
I'll let you make your own mind up :-)

* Aside from the classic part **
** And the gag bit.
England Vs Sweden - Match Report!
---
Wednesday, June 21, 2006 at 10:29 PM Hooray! We might've been a bit, uh, inconsistent on Tuesday but we managed to at least get a result that meant we're not facing Germany next, so I don't mind.

YES! I'm talking about The Footballs.

If you missed the ITV match report following the game, then don't worry - Squage Sport is here to help you with its in-depth knowledge of Feetball. Well, it knows about as much as ITV anyway.

Check out the match report!

More to come for future England games*.

* Provided I have 3 pints of beer during the match and think it's a funny idea to do a pisstake match report again. Don't ask. It made myself and Dave Smith laugh anyway :-)
Nothing Ever Happens
---
at 9:44 PM Three days ago, the tune "Nothing Ever Happens" by Del Amitri came into my head.

I'd not heard it for absolutely ages, but found an MP3 I had of it and had a listen. It's not often that songs describe exactly how I'm feeling at a point, but that really did.

I've now bought their greatest hits (yep, I hadn't bought the MP3 originally... goes to show that downloading without paying can benefit record companies too blah blah etc etc). Wooh!

I really should do something exciting with my life before I retire. I know that sounds ridiculous at 26 but, meh, I've been saying this for about 5 years now.

Still, I'll probably do something about it tomorrow. Or Friday.

Maybe Sunday. Right after I promise to blog every day.
Note to self: should really set aside time to do blogging
---
at 9:33 PM That worked well, didn't it? Almost 6 months without a single blog entry.

6 Month Summary:

January
Quit Time FM

February
Hmm. Not sure. I think there was a Vobble Weekender this month. If so, it was ace.

March
Started a "Squage Chillout" podcast. Check the shows out here.

April
Workmate Stoo's Stag Weekend in Budapest. Very Expensive. Very Drunk. Very Ace.
Camping Weekend with Workmates. Quite Cheap. Very Drunk. Very Ace.

May
Had a month off alcohol. Felt a LOT less rubbish at work than in April :-)
Going to gym 3 times a week.
Lost half a stone.

June
Workmate Stoo's Wedding. Congrats!
Watched some football.
Going to gym 3 times a week.

Aside from that it was Being At Work and plodding along with stuff. I'm sure there's lots more than that, but I can't remember off the top of my head!

Hello, by the way. I'm Pat. I used to blog. :-)